Proud Recipient of the 2016 President's Excellence in Exporting "E" Award
Tigard Based High Impact Technology Earns Presidential Export Award "E" Award From US Department Of Commerce.
Tigard's High Impact Technology is working to solve the world's problems, by saving lives both on and off the battlefield
Customer Tailored Innovative Solutions
HIT produces world-class solutions for infrastructure, equipment, and personnel protection across a vast array of global industries.
Trusted by: U.S. Army, U.S. Air Force, U.S. Navy, U.S. Marine Corps, and Strategic NATO Allies
We turn explosive kinetic and traumatic impact events into "non-events" for our clients in high-risk environments so they can perform their daily work with confidence.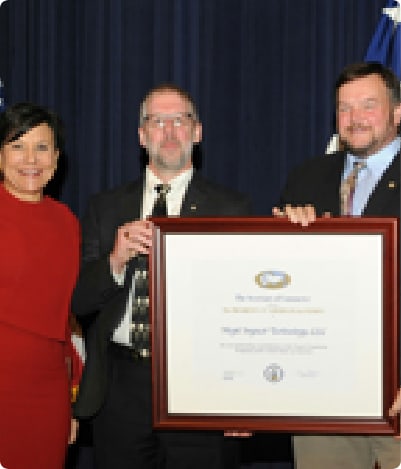 About High Impact Technology
We are a team of engineers, innovators, and consultants, equipped with facilities for engineering, testing and research, sharply focused on our core mission–protecting lives.
We mitigate explosive, kinetic and traumatic impact events for our clients in high risk environments.
Since 2004, the HIT team has been developing multiple advanced impact, durable coating, corrosion, composite strengthening, ballistic and blast protective technologies. We find custom solutions that work for our clients by synergizing our unique resources, knowledge, skills and partnerships to overcome the challenge. If we don't have the solution you require, we innovate to meet your needs.
How can we help you turn your risk into a non-event?
HIT Provides Custom Innovation to Protect Lives and Prevent Catastrophe